Dependable Wireless Audio that Anyone Can Use
The Shure GLXD24+ is a digital wireless handheld microphone system that offers reliability and outstanding sound quality in a package that's simple to use, even if you've never operated a wireless system before. Shure's next-generation technology handles the set up for you, automatically scanning both the 2.4 and 5.8 GHz frequency ranges to seek out the best possible digital transmission channel to ensure dependable performance for your presentations, performances, conferences, and events at a typical range of up to 100′ indoors and 65′ outside.
Handheld Transmitter with BETA 58 Microphone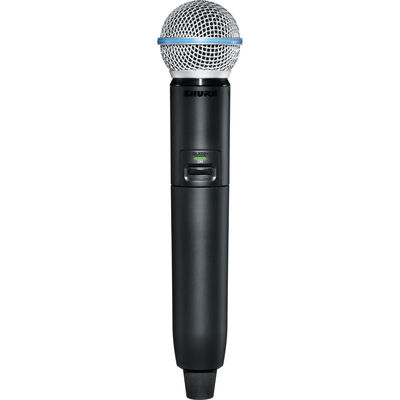 This version of the GLXD24+ is configured with a handheld transmitter equipped with a BETA 58A microphone.
Ideal for live stage environments, the mic's frequency response features a bass roll off and enhanced midrange presence for optimal reproduction of vocals and speech.
Its dynamic capsule utilizes a neodymium magnet for high signal-to-noise levels and is shockmounted to reduce handling noise. The supercardioid polar pattern focuses audio capture very tightly on the vocalist, helping to reduce feedback issues when sound reinforcement equipment is used.
A dent-resistant steel mesh grille and enamel coated die-cast metal construction resist wear and abuse, while the effective built-in pop filter reduces undesirable wind and breath noise.
Portable Tabletop Receiver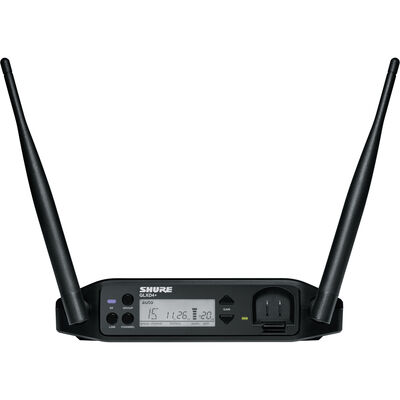 This configuration includes a portable tabletop receiver made from durable ABS plastic with front-panel charging for the SB904 battery and an easy-to-read display that shows pertinent information.
The system transmits audio with a flat, 20 Hz to 20 kHz frequency response and 120 dB of dynamic range, leaving the sound of your mic unaffected by the wireless components.
The transmitter's input gain can be wirelessly adjusted right from the receiver's front panel to optimize the audio signal.
The rear panel provides a balanced XLR output switchable between mic and line levels along with a balanced 1/4″ Inst/Aux output.
Reliable Dual-Band Technology
GLX-D+ Dual-Band Digital Wireless systems operate in both the 2.4 and 5.8 GHz frequency ranges, automatically scanning both to select the one that offers the higher number of clean channels.
The previous GLX-D only worked in the 2.4 GHz range, which offers 83.5 MHz of bandwidth. By expanding into the 5.8 GHz range, the GLX-D+ provides an additional 125 MHz worth of potential open frequencies for available channels, helping to minimize dropouts and enhance reliability.
The system offers true digital diversity, which means two antennas and two independent receiver modules work together to reduce RF signal dropouts.
In addition to the main transmission frequency, the GLX-D+ is constantly monitoring 2 extra "backup frequencies", so if the system detects interference, it will switch to one of the backups automatically without the user even knowing.
Besides the additional spectrum, there are other benefits to in operating in the 5.8 GHz range. In general, there are fewer devices operating in this range, making the spectrum cleaner. The 2.4 GHz range is home for Bluetooth devices and other devices, including Wi-Fi routers and repeaters, security cameras, baby monitors, garage door openers, and more. Operating in this range means competing with these devices for the same space.
GLX-D+ receivers typically allow you to run up to 4 mics simultaneously in the same space. Under ideal conditions, up to 8 systems can be used.
If you need more mics at once, consider a system with the GLXDR+ half-rack receiver, which offers removable antennas and can accommodate the GLXD+FM Frequency Manager (available separately). The frequency manager allows up to 11 mics to operate simultaneously (16 under highly optimal conditions) making it ideal for installations with multiple wireless systems.
Intelligent Battery Rechargeability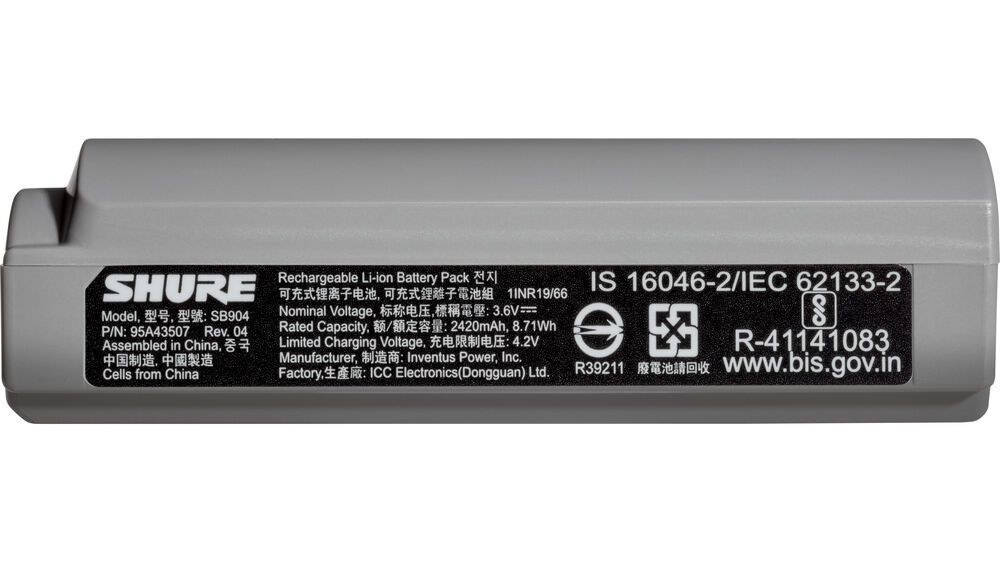 The GLXD2+ handheld transmitter runs on an intelligent SB904 rechargeable lithium-ion battery (included).
The battery provides up to 12 hours of continuous use on a full charge.
The transmitter automatically powers off after approximately 1 hour to conserve battery life if the signal from a linked receiver is not detected.
The SB904 battery can be recharged in the GLXDR4+ receiver's charging bay (located on the front panel). The charging bay can also be used to recharge a spare battery while the transmitter is in use.
Alternately, the SB904 can be recharged while in the handheld transmitter with a USB charging cable.
Just a 15-minute quick charge provides 1.5 hours of use.
The SB904's remaining battery life is displayed in hours and minutes from the receiver's front panel.
Tips to Optimize Your GLX-D+ Wireless Performance
Add Functionality to Your System
Shure offers a variety of headset, instrument, and handheld microphone options to adapt your GLX-D+ system as your needs evolve.
Vocalists/Presenters
The GLXD2+ handheld transmitter is also available with the BETA 87A supercardioid condenser or the legendary SM58 cardioid dynamic microphone capsules.
Presenters
The GLXD1+ bodypack transmitter features a durable metal chassis and can accommodate a wide variety of lavalier, headset, and instrument mics or cables.
The WL185 lavalier microphone delivers natural vocal reproduction for presenters, performers, clergy, and lecturers working in high-volume environments.
The WL93 omnidirectional lavalier mic offers consistent pickup, even when the performer turns away from the mic.
The discreet MX153 miniature earset mic provides exceptional clarity in spoken word applications.
Shure offers several headset options. Choose a PGA31 headset for everyday applications, or try the SM31 Fitness or SM35 Performance models for more active presentations.
Guitarists
The WA302, WA304, and WA305 guitar cables let you connect the bodypack transmitter to a guitar or bass.
Instrumentalists
The WB98H/C flexible gooseneck instrument microphone attaches to brass, woodwind, and percussion instruments and connects to the bodypack transmitter.
Shure GLXD24+/B58-Z3 Specs
Key Specs
| | |
| --- | --- |
| Wireless Technology | Digital 2.4 GHz/5.8 GHz |
| Included Transmitters | 1 x Handheld |
| Diversity | True Digital Diversity |
| Max Operating Range | 100′ / 30.5 m (Line of Sight) |
| Receiver Type | Tabletop |
| Microphone Type | Handheld |
| Polar Pattern | Supercardioid |
System
| | |
| --- | --- |
| Wireless Technology | Digital 2.4 GHz/5.8 GHz |
| Included Transmitters | 1 x Handheld |
| Diversity | True Digital Diversity |
| RF Frequency Band | Z3: 2400 to 2483.5 MHz / 5725 to 5850 MHz |
| RF Bandwidth | 208.5 MHz |
| RF Channel Scanning | Auto-Scan |
| Max Operating Range | 100′ / 30.5 m (Line of Sight) |
| Max Transmitters per Band | 8 |
| Built-In Recorder | No |
| Timecode Support | No |
| Mobile App Compatible | *As of February, 2023: Check with manufacturer for the most up-to-date compatibility |
| Latency | 4.5 to 8 ms |
| Dynamic Range | 120 dBA |
| Encryption | None |
| Modulation | Proprietary |
Receiver
Receiver Type

Tabletop

Antenna

2 x 1/2 Wave Sleeve Dipole, Fixed (Front-Mount)

Number of Audio Channels

1

Audio I/O

1 x XLR 3-Pin Male Balanced Mic/Line Output
1 x 1/4″ TRS Female Balanced Output

Audio Output Level

XLR Output:
+1 dBV
1/4″ Output:
+8.5 dBV

Phantom Power Protection

On 1/4″, XLR Outputs

Frequency Response

20 Hz to 20 kHz (Dependent on Mic)

Network I/O

None

Word Clock I/O

None

USB/Lightning Connectivity

1 x USB-C Female (Firmware Update)

Impedance

XLR Output:
100 Ohms (Balanced)
1/4″ Output:
100 Ohms (Balanced)
50 Ohms (Unbalanced)

RF Output Power

10 mW (EIRP, Max)

Spurious

Rejection: >35 dB

Power Requirements

AC/DC Power Adapter

AC/DC Power Adapter

14.5 to 17 VDC at 600 mA (Included)

AC Input Power

100 to 240 VAC, 50 / 60 Hz

Display & Indicators

1 x Backlit LCD (AF Level, Channel, Frequency, Group, Transmitter Battery Status)

Housing

ABS

Operating Temperature

32 to 113°F / 0 to 45°C

Dimensions

7.2 x 1.6 x 4.8″ / 183 x 40 x 122 mm

Weight

10.9 oz / 310 g
Transmitter
| | |
| --- | --- |
| Transmitter Type | Handheld |
| RF Output Power | 10 mW (EIRP) |
| Audio I/O | None |
| Pad | None |
| Muting | Off/On Switch |
| Auto-Level Control | No |
| Gain Range | -20 to +40 dB (1 dB Steps) |
| Sync Method | Proprietary |
| Antenna | 1 x External, Fixed (Handheld) |
| Power Requirements | Battery |
| Battery Type | 1 x Shure SB904 (Included, Replaceable) |
| Internal Battery Capacity | 2420 mAh |
| Battery Charging Time | .25 to 3 Hours |
| Approx. Battery Life | 12 Hours (Lithium Rechargeable) |
| USB/Lightning I/O | 1 x USB-C (Charging) |
| Display & Indicators | 1 x LED (Battery Status, Sync) |
| Housing | Metal, Plastic |
| Dimensions | 2 x 9.7 x 1.5″ / 51 x 246 x 37 mm |
| Weight | 7.9 oz / 225 g (without Batteries) |
Microphone
| | |
| --- | --- |
| Microphone Type | Handheld |
| Color | Black |
| Sound Field | Mono |
| Capsule | Dynamic |
| Polar Pattern | Supercardioid |
| Frequency Range | 50 Hz to 16 kHz |
| Impedance | 290 Ohms |
| Sensitivity | -51.5 dBV/Pa |
Packaging Info
| | |
| --- | --- |
| Package Weight | 4.555 lb |
| Box Dimensions (LxWxH) | 18.7 x 12.9 x 4.3″ |