The Electro-Voice EVOLVE 50M is a versatile, ultra-compact PA system that's perfect for small- and medium-sized venues. Packing 1000 watts of power, the EVOLVE 50M can be used on its own by solo artists or daisy-chained with other units for larger venues with ensembles. This PA system consists of three major parts: a potent 12-inch woofer, a lightweight aluminum sub pole, and a column array with eight 3.5-inch neodymium drivers. The EVOLVE 50M has a proprietary waveguide design that provides 120° of horizontal coverage and 40° of vertical coverage to ensure that the back of the house will always hear your mix. It has an onboard 8-channel digital mixer that can handle microphones, guitars, instruments, and many more. Featuring wireless control via the QuickSmart mobile app and seamless Bluetooth streaming, the EVOLVE 50M has enough functionality for any performer.
Ultra-portable, collapsible design saves you time and effort
Lugging a heavy PA into the venue is a lot of work. The Electro-Voice EVOLVE 50M seeks to change that, tipping the scale at just 57.75 pounds. To make transportation easy, the EVOLVE 50M ships to your door with an included backpack for the column array and the aluminum speaker pole. Setup is simple: the 2-section aluminum pole mounts into the subwoofer and transmits audio to the column array via internal integrated speaker wires. The intuitive design helps you get set up for your gig in no time at all. Just plug it all in and play!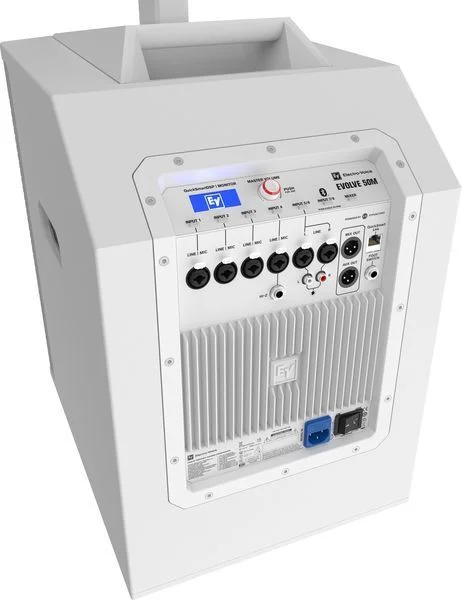 The fully configurable digital mixer is ready for anything
The EVOLVE 50M has a fully configurable 8-channel digital mixer that you can control from your smartphone via the QuickSmart mobile app. You get four presets to cover some of the situations you may encounter. It includes a 3-band EQ, an onboard compressor, dual FX sends, and independent channel gain controls. In the app, you can add any one of the 30 professional-quality effects to your mix, including reverb, delay, chorus, flanger, and echo! At Sweetwater, we especially appreciate the built-in Bluetooth streaming capability that allows you to keep the vibe going even if you need to step away from the stage.
Neodymium drivers deliver top-notch sound and expansive coverage
The EVOLVE 50M is a sonic powerhouse. The column array is loaded with eight 3.5-inch neodymium high-frequency drivers and a proprietary waveguide that provides an impressive 120° of horizontal coverage and 40° of vertical coverage. The excellent sound quality and dispersion of the column array is paired with the raw power of the ported 12-inch subwoofer to produce up to 127dB SPL with a frequency response as low as 43Hz. No matter where you're playing, you can rest assured that every inch of the venue receives the best sound possible.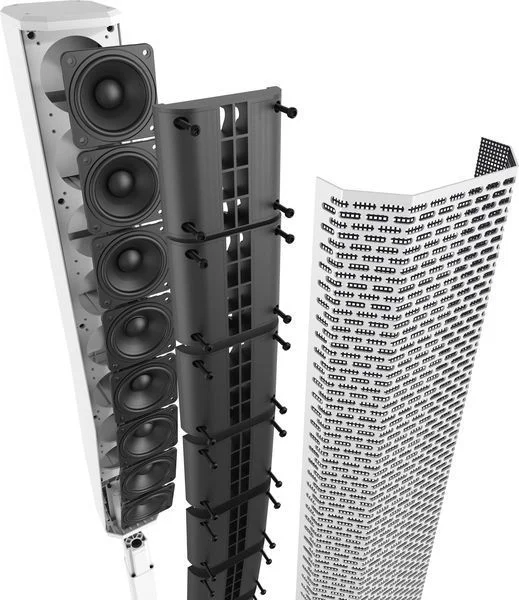 Electro-Voice EVOLVE 50M Features:
1000W system packs a big punch
Collapsible design allows for compact storage and easy transport
Composite waveguides provide spacious coverage for the entire venue
8 column-arrayed HF drivers and 12-inch LF driver deliver impressive power
4 factory presets (Music, Live, Speech, and Club) help you set up for common situations
3-band EQ makes sound shaping simple and easy
Built-in Bluetooth connectivity allows you stream music seamlessly for intermission or backing tracks
QuickSmart mobile app provides powerful DSP and a variety of professional effects
Phantom power enables use with condenser microphones